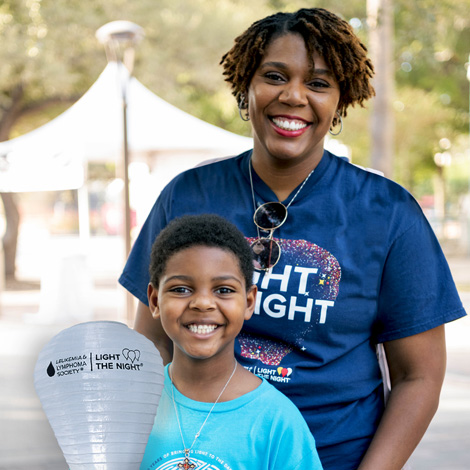 Join us in bringing light to the darkness of cancer! We are forming a fundraising walk team for The Leukemia & Lymphoma Society's (LLS) Light The Night. Register today to join our team or make a donation and help fund cancer cures!
By giving a donation today, you can help children like Jarvis. In February 2020, at four years old, Jarvis was diagnosed with Pre-B Acute Lymphoblastic Leukemia (ALL). Through stays in the hospital, having to relearn how to walk, and many other hurdles, Jarvis stayed strong through it all. Jarvis was officially declared in remission in late 2022. It's been a long journey for him and his family, but they are so happy to see him living life as a normal seven-year-old now.
Funds raised through Light The Night allow LLS to fund treatments for patients who are suffering from all forms of blood cancers. Since 2017, LLS has helped advance 85% of the blood cancer treatment options approved by the FDA.
Help defeat the darkness of cancer. Please make a donation today to continue to help patients and their families across the country!
CLICK THE DONATION LINK BELOW FROM YOUR LOCAL SHUCKIN' SHACK LOCATION TO DONATE
SHUCKIN' SHACK OYSTER BAR – SUMMERVILLE, SC
SHUCKIN' SHACK OYSTER BAR – WEST ASHLEY, SC
SHUCKIN' SHACK OYSTER BAR – EASLEY, SC
SHUCKIN' SHACK OYSTER BAR – CUMMING, GA
SHUCKIN' SHACK OYSTER BAR – RALEIGH, NC
SHUCKIN' SHACK OYSTER BAR – ROCKY MOUNT, NC
SHUCKIN' SHACK OYSTER BAR – JACKSONVILLE, NC
SHUCKIN' SHACK OYSTER BAR – SURF CITY, NC
SHUCKN' SHACK OYSTER BAR – OCALA, FL
SHUCKIN' SHACK OYSTER BAR – WESLEY CHAPEL, FL
SHUCKIN' SHACK OYSTER BAR – FREDERICK, MD
SHUCKIN' SHACK OYSTER BAR – NAPERVILLE, IL
SHUCKIN' SHACK OYSTER BAR – SALISBURY, NC
SHUCKIN' SHACK OYSTER BAR – WILMINGTON, NC
SHUCKIN' SHACK OYSTER BAR – LELAND, NC
SHUCKIN' SHACK OYSTER BAR – CAROLINA BEACH, NC